IAFF Centennial Convention
Updated On: Aug 216, 2018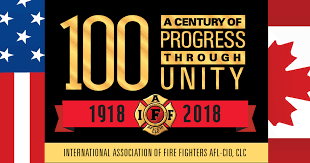 IAFF Centennial Anniversary
This up coming week President Roberts and Vice President McDonald will attend the IAFF Centennial Convention.
The Convention will focus on the challenges of keeping our communities safe in these troubling times. We will be bringing back important information that will not only keep our communities safe, but information that will also increase the safety of our firefighters that do the dangerous work.
We have attached a press release that was forwarded to media outlets across San Diego and Chula Vista.
Union Strong!
Download:

IAFF Centennial .pdf